State-of-the-art production know-how for individual solutions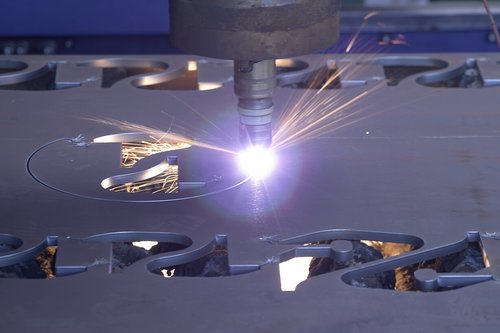 One key milestone in ELH's short history was the move to it's new facility in Landsberg (in the industrial area Halle/Queis) in 1999.
Built reflecting state-of- the-art principles of production and goods flow, it is one of Europe's most advanced production site for bogies.
Reliable bogies for railway cars throughout the world are produced using high-tech equipment on our site measuring 24000 square meters as well as 8600 square meters of production, social- and office facilities.
ELH's leading edge production facility include:
Welding robots for sole bars and cross beams as well as small parts and frames.
Modern sandblasting and paint shop for eco-friendly water-based paint.
Plasma cutting system
CNC milling machines
Modern test bench up to 750 kN for different track gauges. Flawless products are ensured by a complete quality control inspection every step in the manufacturing process. If requested by the customer, acceptance can also be carried out by external experts. Every bogie for railway cars is digitally measured and protocolled.
The in-house logistics using a barcode system enables the traceability of all products and guarantees on-time delivery. An acceptance test certificate documents the exact manufacture information of each individual product.
The requirements of the DIN EN ISO 9001:2015 quality control system are consistently met by ELH. High customer satisfaction is ensured by our efficient process control and our qualified employees. Additionally, ELH has the required welding approval DIN 15085-2. for welding on railway vehicles.
ELH - at home on all railroad tracks in the world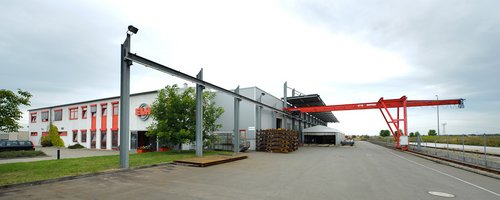 The favorable geographical location and perfect logistics by truck, train, plane or ship are the basis for the expanding export volume of ELH in Europe and overseas.
With excellent service and opening up new market segments, ELH is positioning itself on the markets of the future.
From the location in central Germany, ELH products reach their customers as quickly as possible by truck (via road connector BAB 14 and 9), on rail (starting from ELH's own railway siding), sea and air (via Airport Leipzig/Halle).
ELH's railway bogies are used by customers worldwide. Aftersales services for ELH customers include application- and product training. We also offer overhaul services and repair on bogies, supply of spare parts as well as contract manufacturing.
Every two years, ELH showcases its latest products and inventions at INNOTRANS in Berlin, the world's leading trade show for the railway industry.
Visions of Eisenbahnlaufwerke Halle GmbH & Co. KG
ELH Eisenbahnlaufwerke Halle GmbH & Co. KG develops and manufactures bogies for various rail vehicles with focus on freight transport. In bogie construction, we rely on experience, special know-how and innovation. Our strategy for the future is based on the following vision:
| | |
| --- | --- |
| 1. Customer focus | We want to be a reliable partner for our customers and use our know-how to their advantage. |
| 2. Quality | The quality of our products should meet and exceed customer expectations. |
| 3. Flexibility | In order to achieve competitive advantages we want to accelerate our processes through a lean structure. |
| 4. Company appeal | We want to create a positive working atmosphere with our employees through transparent conditions and open dialogues and thereby also become attractive for new employees. |
| 5. Economy & growth | We want to develop ourselves sustainably. |
| 6. Environmental awareness | In order to ensure the existence of the company, we strive to use resources responsibly in terms of people, technology and materials. |